Pick Up Service
Peterson Sanitation (608-524-6603) provides garbage & recycling pick up on Friday mornings. They
request all items be placed at the end of your driveway by 6:00am.
Schedule and Holidays
You can view the collection calendar at http://www.townandcountrysanitation.com/township/dellona-wi

Pick up runs one day later on weeks with a holiday that falls on a Monday through Friday. Saturday and Sunday holidays do not affect the collection day. The following holidays may affect collection:

Memorial Day
4th of July
Labor Day
Thanksgiving Day
Christmas Day
New Year's Day

Recycling bins can be ordered by calling Peterson Sanitation.

See http://www.townandcountrysanitation.com/recycling for information on acceptable and unacceptable items for recycling.

You may download a printable pdf version of the recycling instructions shown below.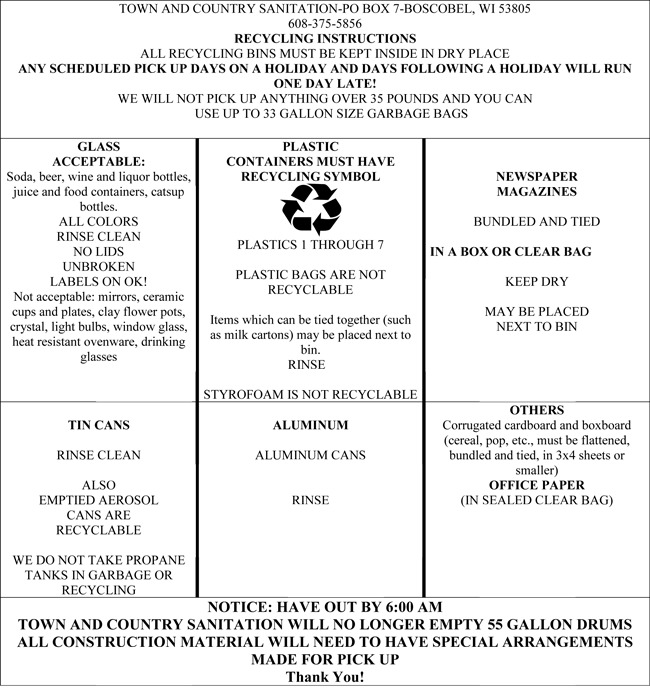 Drop Off Option
Waste Management (608-355-3100) provides a drop-off center at S2439 Highway 12 in Lake Delton for large items or construction waste.

See https://www.wmsolutions.com/locations/details/id/714 for hours and information. There is a minimum charge of $16 (as of 2016) to drop off with special rates for oversize items. They do not accept yard waste.